*sigh*
I'd say something about the blatantly obvious yet un-called pass interference / defensive holding against Exum on the late Rocco INT, but we were playing to lose at that point anyway. Saving the timeouts to ice the kicker? Laughable. That was Mickey Mouse bullshit, and that's on Mike London. And the dirty-ass cut block that took down Chris Brathwaite? Par for the course with the Hokies. They are common scum, no way around it. But they are scum that have our number, to the point where we watch the air wheeze out of the balloon at the end of that tied game instead of manning up and fighting for a win. Fuck it. It's not worth it for me to get upset about it.
Wheeeeeeeeeeeeeeeeeeeeeeeeeeeeeeeeze.
Now it's been nine times in a row that Virginia Tech has fricasseed our asses and/or let the air out of that balloon. We're pushing a decade. And that 2003 Wahoo win was the outlier -- the Hokies have beaten us in nine straight, and 13 out of 14 stretching back to 1999. That's bad. That's unacceptable.
What's also unacceptable is this 4-8 record. Yeah, there are reasons (read: excuses) why we were bad this season -- Al Groh's weaksauce 2008 and 2009 recruiting classes being the only one that really holds water with me. But 4-8 is not indicative of our talent level. It's less than the sum of the parts. We underplayed our hand, and we failed to live up to our ability level. That's bad. That's unacceptable.
There are now questions - serious questions - surrounding Mike London's ability to lead this program where we want and need it to go. Therefore, I have a list of demands for our football program for the next 12 months. He needs to meet this list of demands in order to answer those questions and maintain my full faith and support.
Demand #1 -- Make a coaching change geared toward fixing special teams.
Look, I love Anthony Poindexter. I also appreciate loyalty, maybe more than most. And I'm glad that London is loyal to his assistants. But special teams directly cost us the LaTech and Maryland games, and played a big role in several of our other losses. Something needs to be done. London needs to prove he has some teeth and that he's willing to take a bite out of his coaching staff in order to cure what ails the program. It's time to relieve Dex from special teams duty, and maybe remove him from the staff altogether (though his recruiting ability would be missed.) It's time to make a bold move for a true special teams coordinator, and attempt to turn our biggest liability into a strength over the course of this offseason.
Love you Dex, but you're in over your head.
Your special teams suck.
Demand #2 -- Keep the very good 2013 recruiting class together.
We can't afford to hemorrhage any of these recruits because of our piss-poor record this season. We gotta keep 'em all committed. Some of the guys have the wandering eye. We don't have to worry about practicing for a bowl game - BOOM! - so we need to be out on the recruiting trail stitching up the 2013 class and also laying serious rail for 2014 and 2015.
Demand #3 -- Force some accountability upon the offensive gameplanning and playcalling.
I'm not suggesting we should shitcan Bill Lazor. But the message needs to be delivered - loud and clear - that things are going to change; that Virginia will no longer be the predictable, dink-and-dunk, milquetoast garbage we saw in 2012. No more wilting under pressure. No more limited shots downfield, and no more playing it safe to the point of crippling our chances to score points. It's time for an explosive offense, and I think four years is long enough to build it. Mike London needs to talk to Bill Lazor about how much he hates the vanilla flavor of our offense, and we need to see tangible progress toward spicing things up in the spring.
Demand #4 -- Choose a fucking quarterback.
Mike Rocco vs. Phillip Sims vs. David Watford vs. Greyson Lambert this spring. And leaving spring practice, one of them needs to be chosen to lead this team, and that announcement needs to be delivered to the media and the fans. It's time to commit to one of these guys. No more musical quarterbacks. Show us you have the stones to pick one and make the necessary commitment to him that allows him to fully take the reins. Seriously. CHOOSE A FUCKING QUARTERBACK.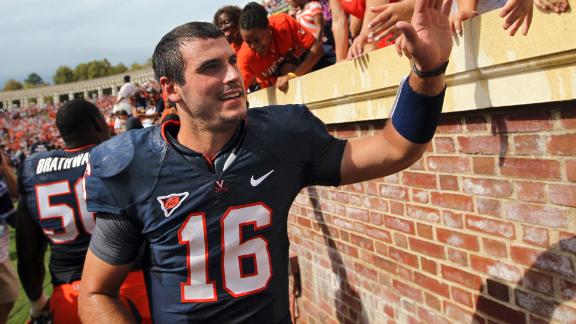 Rock is probably my guess to lead the team in 2013. He'll be a senior,
and he's been right there as the team has worked through this rebuilding process.
Demand #5 -- Develop Jake McGee.
McGee is an otherworldly talent, but he lacks a position. I'm going to use him as my unofficial litmus test on this staff's ability (or inability) to develop talent and find roles for unique players. McGee received a criminally low number of targets down the stretch this season. He's our best receiver -- pump the ball to him! Didn't happen, but now I demand the situation to be rectified.
Demand #6 -- Kiss my ass.
I met today's loss with a feeling of annoyed apathy, and if I'm feeling that way, I know legions of Hoofans have already written off their allegiance to Virginia football. As the weary die-hard Virginia fan, I need to be romanced back into excitement and enthusiasm for the football program. I don't know what form that needs to take, but it's on London to fucking figure it out.
Demand #7 -- Lower ticket prices.
Take away seats from the students and expand the availability of the $100 season tickets beyond faculty/staff and young alumni. Help area residents bring their whole families to games for cheap, and cultivate a new demographic of fans. Mike London wants UVA to be Virginia's team, so UVA needs to price its tickets for the Virginia populace, not just for the popped collar hoity-toity fuckfaces that don't understand how to be good football fans.
Limit the student section to just the lower bowl,
and maybe it'll look like this for every game.
Demand #8 -- Bowl game or bust in 2013.
Can't really expand on that one a whole lot. Gotta win enough games to go bowling, the program
has
to show progress to that level.
Demand #9 -- Beat Virginia Tech.
2013. The losing streak has to end there.
I'll revisit this list of demands throughout the upcoming 12 months.
Fuck it, time for some pizza.