Here's a six-pack of thoughts as I prepare to pop into a real-life six pack and continue the celebration from last night into today...
1) What a huge, huge win last night. The 5th on the season, which means we only need to pick up one more win in order to become bowl-eligible. HUGE. @ Maryland and home against Duke these next two weeks, I'm guessing we're favored in both. Just need one more...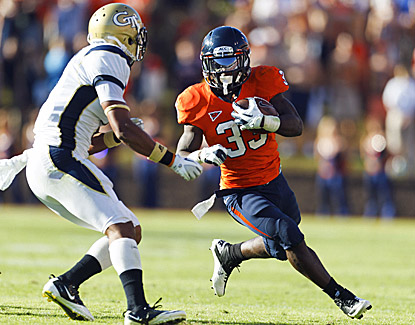 The Little Engine That Could
2) Perry Jones was freaking incredible last night -- 12 carries for 74 yards, 1 reception for 78 yards and a TD, and one pass for 37 yards and a TD. Wow. His season totals: 125 carries for 677 yards (5.1 yards per carry) and 2 TDs, 28 receptions for 314 yards and 2 TDs. He's having a phenomenal season.
3) I think the D played pretty good, with the exception of the coverage on Tommy Streeter (Miami #8). But that dude is a Megatron-ish monster; a 6-5 kondor behemoth. No way tiny little Tra Nicholson could hang with that guy. As for the overall defense, a good showing. Holding an explosive Miami team to 21 points is always going to be a feat. Specific props go out to LaRoy Reynolds, who made the critical 4th down stop late in the 4th quarter. He anticipated that snap perfectly (to the point where I was worried he'd get nailed with a bogus offsides penalty).
4) We've bounced back and forth this season. Great win against William & Mary, got lucky against Indiana, decent loss at UNC, bad loss against USM, bad win against Idaho, breakthrough victory against GT, crapped the bed against NCST, and then last night. It's a roller-coaster ride with this team right now. But the bottom line is that we're 5-3 (2-2 ACC) with a very legitimate chance to get to 7-5 (4-4), which puts us into the category of being "decent." I'm not saying we're rebuilt, or that we're at where we want to go, but it's hard to argue against the notion that we are definitely on the right track.
5) Make no mistake, Miami is a better team than Georgia Tech. This was a better win than the one from two weeks ago. Relish it, Hoo fans.
QB1
6) Mike Rocco is and should be our starting quarterback for the balance of this season, and he should be the favorite to win the job for next year and also 2013. He's a good enough passer, has underrated mobility, and has the tools to develop into a very solid starting quarterback. That's what we need right now, to find a competent starting QB to stabilize the program and develop a healthy succession plan behind him. Where does David Watford fit in? Honestly, I'm not sure he does. I doubt he'll be content being the gadget play, change-of-pace QB. Give him the chance to win the starting job in the spring, and if he fails, you have to be straight up with him that he's going to be second fiddle behind Rocco until injury or until the 2014 season. That's my two pennies on the matter.
Anyway, great win! We're getting there. Slowly but surely, and in fits and stops, two steps forward / one step back, we're getting there. Laying the lumber to Maryland in eight days would go a LONG way toward cementing the program's rise from the abyss. Get it done, guys.
GO HOOS!