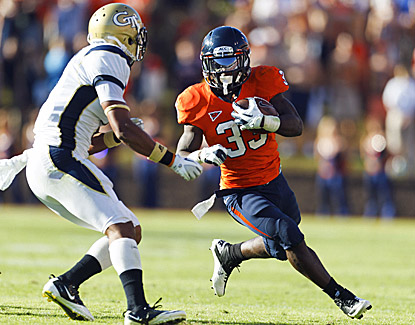 Here's Perry Jones turning the corner on the defense,
but that's not exactly what I meant with the title of this post.

Mike did a fantastic job of summarizing the significance of the win over Georgia Tech. If you haven't read

HIS POST

, I strongly encourage you do so.

I choked up and got some tears in my eyes on two separate occasions on Saturday -- the swing pass to Perry Jones for the third down conversion in the last possession, and then later in that same drive when Jones ran for 11 yards to pick up the last first down we needed to ice the game. I got that lump in my throat not because we were winning the game against the #12 team in the nation, but because I understood just how important that win was for the program on a much grander scale.


A turn-the-corner win.
London's signature moment at UVA.
A watershed victory.
A program-changer.
The turning point in the rebuilding effort.
A breakthrough win.

Really? All of that? Maybe more? Not sure I'm buying... yet.

Look, I'm not trying to be a wet blanket, but we've seen this before. Last year against Miami, to be specific. And that win segued to an embarrassing loss to Duke a week later, on the way to a four-game losing streak to end the season.

But that win against Miami was fluky. It was all interceptions and knocking Jacory Harris out of the game and hanging on for dear life. This win over Georgia Tech was different. It was dominant running, defensive excellence, want-to and heart. It was gritty, not lucky. It was a win that makes you believe, not just a win that gives you hope.

Still, I'm guarded. 25+ years of being a Virginia fan teaches you the survival mechanism of being "cautiously optimistic." I want to believe that the corner was just turned, but I'm not sure I should jump in head over heels. My heart says yes, but my head says "

wait a second!"
Reasons to

doubt

that the corner was just turned:

-- We had the bye week, and thus two weeks to prepare for the triple option. That's why the defense was so good.

-- Georgia Tech was overrated after beating up on a collection of middling teams (Kansas, MTSU, et al) to pump up its image. It was a team that had grown fat and sloppy off of its early success, and it was ripe for the picking.

-- It wasn't a lucky win, but there were lucky plays. The blocks in the back leading to two big plays being called back, the pitch off of the offensive lineman's back, missed blocks, missed reads, the low field goal kick that was easily blocked.

-- One game doesn't tell the story of a team. This is the same team that should have lost to a terrible Indiana team, and damn near lost at home to a pathetic Idaho team. You're never as bad as your worst loss... or as good as your best win.

-- The QB carousel continues to spin. David Watford and Mike Rocco, both had good moments and bad. The presence of both ensuring that neither could settle into a proper rhythm. Think Rocco throws that interception if he didn't know Watford was set to relieve him on the next series if he didn't make a play?

Reasons to

believe

that the corner was just turned:

-- The defense... it was just... it was just AWESOME. Disciplined, tough, fast. Fundamentally sound. Aggressive without getting out of position. Ballhawking. Hard-hitting and sure tackling. Everything you want.

-- And the D hasn't been good for just this one game. It sparkled against William & Mary. Struggled a bit against Indiana and UNC, but then pulled it together in the second half against USM and played a good game against Idaho. It's coming together, slowly but surely.

-- The offense found an identity, at least for one game. Pound the ball. Run off tackle. Mix in some dumpoffs, some swing passes, screens, play action. But mostly, RUN THE FREAKING FOOTBALL. Perry Jones was incredible. He was so good, I couldn't tell if he was running on churning legs or rolling on a pair of giant testicles. KP was a little beast, and Clifton Richardson was beyond impressive. This is a talented trio of runners, and they all seem to be gathering a serious head of steam running behind a very capable offensive line.

-- This was the single biggest recruiting game of the season. Mike already hit on this, so I won't belabor it. Needless to say, it's great for recruits to see us win a game like this against a ranked team. It gives them a belief in the true potential of this "sleeping giant" of a program.

-- The play action touchdown pass from Mike Rocco to Tim Smith. Best throw I've seen since Matt Schaub. Just a thing of beauty. An angel's kiss. That throw gives me some degree of faith that we have found our starting quarterback for the rest of this season and the next two seasons after this.

-- The fans. They were great. Even the students. We've hung in there, and we're all so desperate for a winner, we're almost ready to will it into being.

-- It looked like a team out there, with playmakers and poise, with confidence and belief. It looked like they're ready to start winning. Not just this one game, either.

My good friend Doug (a Virginia Tech fan, more from him later this week) had a couple of things to say after the game. Both points resonated with me, to the point that I bought into this whole turn-the-corner thing, not just with my heart but with my gut.

1) He said this at halftime and reiterated after the game: In watching you guys so far this year, this is the first time since 2004 that I am actually concerned about the UVA/VT game based on your ability to pound the ball between the tackles. I had concerns in 2007 that Chris Long might single-handedly beat us, but this is the first time since 2004 I am actually concerned about UVA's ability to run the ball and our inability to stop you.
2) You'll know for sure after this weekend's game against NC State. Come out and lay an egg, this win was a fluke. It's one step forward, one step back. This win means nothing. But come out and play another good game and beat State... then UVA has taken the next step and is officially back to being a decent team.


So there you have it. I believe, but am waiting to see what happens this coming Saturday against NC State, a team that has had a bye week to get healthy and hungry. The Pack had two weeks to prepare for us, just like we had two weeks to prepare for the Wreck.




Is the corner turned? I think so. But we'll find out for sure soon enough.




Until then...


GO HOOS!