Writer's block...
I'm doing a terrible job running this blog right now...
I will snap out of it soon...
But until then, here are some things you should know:
--
Tony Bennett landed a transfer, Anthony Gill
. Gill will sit out the 2012-13 season, then have three seasons of eligibility beginning with the 2013-14 season. He's a stretch 4 (think Mike Scott), that
many of his former coaches are very high on
. Gill should prove to be an impact addition to the basketball program. Great work by Bennett to fortify the roster with another talented frontcourt player.
-- Virginia Tech head men's basketball coach
Seth Greenberg got shitcanned
. I understand why VT made this move - Goonberg seemed really hard to love, and didn't fit the profile of a proper southern gentleman to lead an ACC basketball program - but the timing was very strange. The coaching carousel is already spun, so I wonder
what kind of candidates Tech might be able to attract
.
VCU's Shaka Smart has already turned down much better jobs, though with VCU athletic director Norwood Teague on the move, maybe Shart will cast the wandering eye to... Blacksburg?!? Sorry, Shart is an urban-type coach, no way he's going to cow country.
No way Tech makes a strong move for Jeff Jones. I think JJ is a great coach, but I seriously doubt VT is willing to bring in UVA's sloppy seconds.
Loyola's Jimmy Pastos is a quote machine, and has a decent track record. Could be a nice fit.
Bobby Lutz deserves to head up his own program again. I thought he did pretty darn well at UNC-Charlotte.
Jay Wright is a total pipe dream; typical delusional Hokie BS. I almost feel embarrassed even taking the time to type his name into this space, in connection with the Virginia Tech coaching vacancy.
Clemson assistant James Johnson (who just left VT for Clemson), former Duquesne head coach Ron Everhart, Wichita State's Gregg Marshall, Richmond's Chris Mooney, Murray State's Steve Prohm, Duke assistant Jeff Capel, and NC State assistant Steve Robinson also seem to be on the list. Marshall, Mooney, Prohm, and Capel would all be good options for the Hokies.
-- Along with Gill, the basketball program also added
an intriguing walk-on in guard Justin Miller
, from Missouri. Miller was a mid-major prospect who was just starting to draw some attention from the high-majors before his devastating injury ended his prep basketball career.
Now he's back to game shape
, and when Missou didn't want him, Tony Bennett snatched him up. He's a sweet-shooting 6-foot-1 combo guard who has four years of eligibility remaining... and can start playing in 2012. This might amount to nothing, or we could have just found a hidden gem. Time will tell.
Photo from Columbia Day Tribune
-- And finally, the biggest news of the week. A nugget so huge it really deserves its own series of posts, and not just tacked to the bottom of this one. Those posts are coming soon, but in the meantime, here it is:
Phillip Sims is transferring from Alabama
, and is imminently headed to UVA. He has applied for a hardship waiver, and if it is granted, he could be eligible to play
immediately
, and he has three seasons of eligibility remaining -- 2012, 2013, and 2014.
If you don't know who Phillip Sims is, you obviously do not follow recruiting. Anyway, a quick overview:
He's from Oscar Smith in Chesapeake
He was a 5-star recruit coming out of high school
He was the 67th-ranked recruit nationally
He was the 2nd-ranked quarterback nationally
He was the 2nd-ranked player in the state of Virginia in the 2010 recruiting class
He's not a dual-threat, he's a traditional pro-styl QB with the arm to make every throw... with incredible zip and accuracy
He's a bit of a legend in the 757
The guy is really freaking good, and though he lost the competition to start at Bama (to national championship-winner A.J. McCarron), he's a potential program-changing player. He could be our Michael Vick.
More on all of this later - including the challenge Mike London will face in finessing the situation with a pretty good incumbent at quarterback in Mike Rocco and a pretty good heir apparent in Greyson Lambert - but first, just be excited about this news, which should be officially breaking any day now.
Photo from Virginian-Pilot
Photo from TideFans.com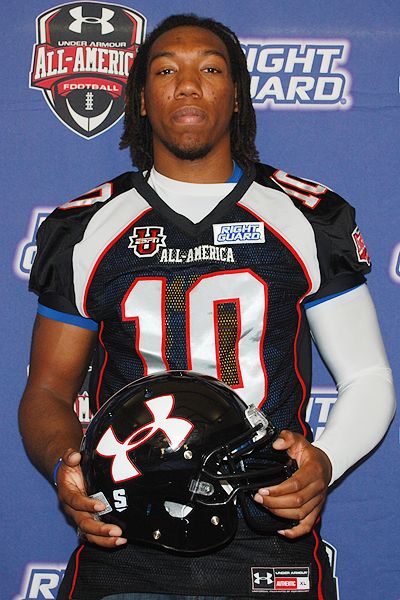 Kevin Shepard for ESPN.com

The new face of Virginia Football?
That's it for now. Stay tuned as I rekindle my fire and start really breaking down the implications of Sims-to-UVA.