These are the things I want to see on Saturday against the Vandals*.
*
Speaking of, I was curious where that nickname came from. After a little digging, I found this, which was interesting so I'm adding it to the post: Some people may see the name "Vandals" in a negative light because of its close association with the term "vandalism;" and, there is indeed a relationship between the two terms. The Vandals were an ancient Germanic tribe most remembered today for their sacking and pillaging of Rome, an event that hastened the fall of the Roman Empire.
An area sportswriter during the World War I era first used the term when he noted that the University of Idaho's basketball teams played with such intensity that they "vandalized" [destroyed] their opponents. Other writers picked up on the idea and "Vandals" as a nickname was first used in 1918. Like Furman, for the first few years the name was only applied to the basketball team. That changed in 1921 when the U of I officially adopted "Vandals" for all its athletic teams.
Anyway, the Idaho Wish List:
1) A win. This really should go without saying, but given our recent history and proven ability to lose home games to such juggernauts as William & Mary, Duke, and Western Michigan... all I want in this game is a win. Just win. Please God, just win.
2) A shutout. Idaho's offense is crap. 59th in the nation passing and 117th rushing. Very bad. We should be able to hold them out of the end zone, I think.
3) Forced turnovers. Time for some interceptions, daggummit. Mr. Minnifield, please pick up the red courtesy phone.
It's time, Chase. It's time.
4) No matter who starts, I want to see the QB have a bang-up game and take control of the starting job. If it's Rocco with his sore ribs, fine. Watford coming off of a decent showing against USM, even better. I just want one of these guys to grab the horns and ride this bull. I want to go into the Georgia Tech game after the bye knowing who our quarterback is and excited about what he can do.
5) Stay healthy! No big injuries in a gimme-type game, please.
6) A bounce back effort for the o-line. Seriously, I pin the USM loss on the offensive line. I want to see that unit come together and make amends by pummeling the Vandals into submission, giving the QBs a spotlessly clean pocket, and paving the way for a 250+ yard rushing day for the backs.
7) At least three plays longer than 30 yards. Grinding along is fine, but we have to start connecting on some shots downfield and/or breaking some big runs. If we're relying on 10+ play scoring drives all season, we're in trouble. Time to find some explosiveness.
8) Limited penalties.
9) Good tackling.
10) No questionable calls from the coaches. None.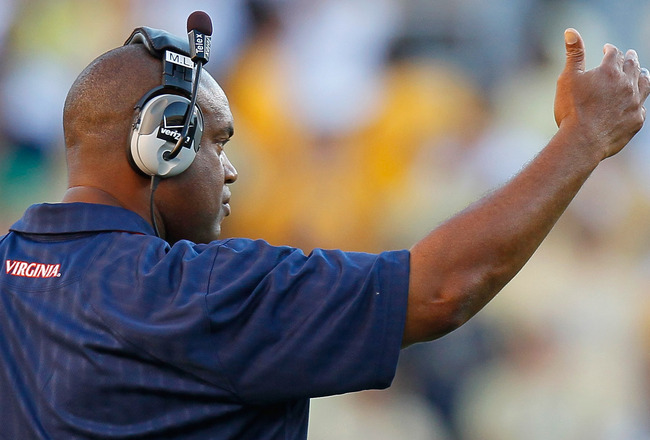 Get that shit under control, coach.
11) Competency in the return game.
12) 30K fans and a half-empty stadium. This is a game for the die-hards, and I want to see those die-hards and not the fairweather fans. I want to see the
real
UVA fans. Is it too cold? Screw you, don't come. The team hasn't won enough for you lately? Screw you, stay home. Et cetera. This weekend, and this weekend only, I want to see the real Virginia fans, I want us to lock eyes in shared misery, and share that moment.
13) Sacks. Plural. Sacks.
14) A few more touchdowns for KP.
15) Playing time for Brandon Phelps and Ant Harris. Our starting safeties suck. Get the two youngbloods on the field.
16) Redemption for Kris Burd. Make the clutch catch and exercise that demon.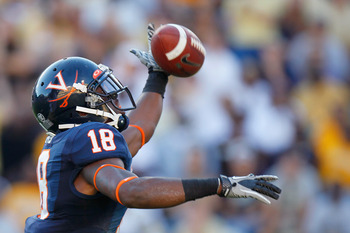 Catch the GD ball!
17) 35+ points. Run up the score. Make a statement.
18) Start fast.
19) Finish strong.
20) A win.