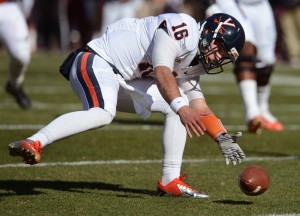 I was prepared to let Mike Rocco walk away into a starting role. Kid didn't have the chops to solidify his role as starting QB, but seemed pretty nice about handling the situation by acknowledging the situation and moving on. Well until now:
Way to go kid. Class move. Blame your failures to grab the bull by the horns and take the job on the coaching staff and quarterback rotation. You know who doesn't have to deal with QB rotation problems? Good quarterbacks. Quarterbacks that don't overtly show an inability to compete with someone hungry for their job. It's division one football for crying out loud. If you can't stomach a little competition and someone challenging your abilities then try and marry a princess and become king of some irrelevant European nation. If you want to play competitive football, grow a sack and deal with some competition. Or at least be an adult and don't have your Dad throw your head coach under the bus. That makes you seem childish. There is no way for your father to know about anything that happens during the game unless you go crying to him every time you got pulled for throwing the ball behind a receiver, or leaving the ball too short, or not be able to throw the ball through a slight breeze. Man up, work hard, and win the job. Or just give up and leave.
Oh and by the way. Everett Golson says hi.
To clarify, Golson beat out and held off senior incumbent Tommy Rees this year
to the tune of a 12-0 record and a BCS National Championship Bid