Mike just posed 27 fill-in-the-blank questions to me about the football offseason. Here are those questions, and my responses. Enjoy!
1. The firing of Jim Reid, Mike Faragalli, Jeff Hanson, and Shawn Moore was _______.
surprising, dismaying, and perplexing, but ultimately not a bad thing

2. Anthony Poindexter's role on the coaching staff should be _______.
coaching safeties or running backs, and serving as the recruiting coordinator

3. The recruit you are the most concerned about losing is _______.
Tyrell Chavis

4. Your level of excitement for next season is _______.

5. Your level of optimism for the program is _______.
alsways going to be high, as I am just an optimistic guy

6. You support _______ for the DC job because _______.
Randy Shannon / he's a good defensive coach and a great recruiter who would unlock the state of Florida for us to raid

7. You would like to see a _______ style defense.
hyper-aggressive, blitz-heavy, attacking

8. If Bill Lazor leaves for a HC job, you would feel _______.
worried and excited at the same time (I don't love the timing-based pro-style offense for college football)

9. You feel confident that we will hold onto _______, who is currently wavering in his commitment to UVA.
Malcolm Cook

10. I can't wait to see what _______ will do next season.
Smoke Mizzell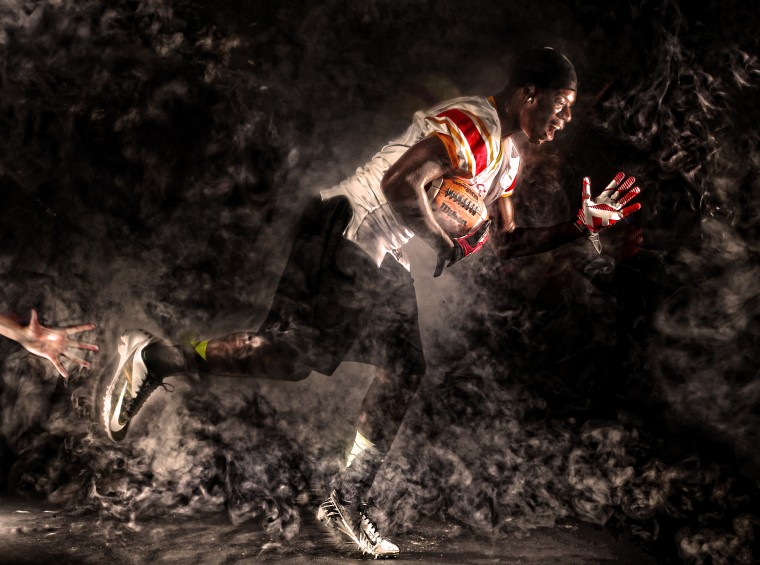 Taquan Mizzell was an undersized freshman when he was first dubbed "Smoke" by Bayside
head coach Darnell Moore. "Have you ever tried to reach out and grab smoke,
and it just goes right through your hands? It's apropos," Moore said.
(Photo illustration by Ross Taylor | The Virginian-Pilot)

11. I really want to see what Coach Marcus can do with _______ in the offseason.
Eli Harold

12. I think Mike London's job security is _______.
tenuous at best, but he has a golden opportunity to solidify things with a good season in 2013 (and we should have a pretty good team with which to do it)

13. I think _______ was responsible for the decision to fire the coaches.
I don't really care who

14. I would like to see _______ come in to coach special teams.
a fiery coach with specific ST coordinator experience

15. I feel _______ about bringing in football alums to coach the team.
less confident and excited

16. When it comes to job security, Shawn Moore's firing showed you _______.
that we need more D-1A / FBS experience on the staff

17. Shane Beamer is a _______.
bit of a douche

18. The QB next season will be _______.

19. There will be _______ QB switches, unless there is an injury.
zero (from my lips to God's ears)

20. The strengths of next year's team will be _______.
the defense (especially the secondary and defensive line) and the running game
21. The weaknesses of next year's team will be _______.
the offensive line, the linebackers, and most likely the special teams
22. In the right scheme, I think _______ could be GREAT.
Jake McGee

23. Virginia's personnel best fits a _______ defense.
natural 4-3

24. Virginia's personnel best fits a _______ offense.
spread-to-run
25. In 2014, UVA's head coach will be _______.
Mike London
26. In 2014, UVA's offensive coordinator will be _______.
someone other than Bill Lazor
27. Virginia Football should be synonomous with _______.

strong defense, a good running game, and high effort