Alright Wahooze. I've had time to absorb the recent firings. I've come to terms with it. In fact, if the right moves are made, I may even support it. UVA to me has a tremendous opportunity to become a force with the right hire. First let's take a look at who the Hoos have coming back next season on defense.
DE-Eli Harold (SO)
DT-Chris Brathwaite (JR)
DT-Brent Urban (SR)
DE-Jake Snyder (SR)
OLB-Daquan Romero (JR)
MLB-Kwontie Moore (SO)
OLB-Demeitre Brim (SO)
SS-Anthony Harris (JR)
FS-Brandon Phelps (JR)
CB-Tra Nicholson (JR)
CB-Maurice Canady (SO)
This is subject to change, of course. Mike Moore and David Dean are my two candidates to challenge for starting jobs. But that's a story for a different day.
Look at the lineup. A maturing secondary, a very solid defensive line, and a very talented group of linebackers. This unit has a chance to be very VERY good. That's not even including the new depth, which could include massively talented newcomers Tim Harris and Malcolm Cook, and potentially even Priest Willis. The defense is on the verge of becoming a dominant unit, making this hire probably the most important decision of the Mike London era.
It seems the leader in the clubhouse is John Tenuta and his hyperaggressive blitzing scheme. I think this scheme would work quite well for the Hoos, especially since the secondary is going to very quickly become a strength of the team. Let that sink in.
.
..
...
....
...
..
.
Good? Okay, I'll continue. I think the lack of pressure is the root cause of the change, and it's what I'm using to wrap my head around it. It's a move I support, and a move I'm excited about. But I think there is a better hire out there.
And it's a man that I really really like
.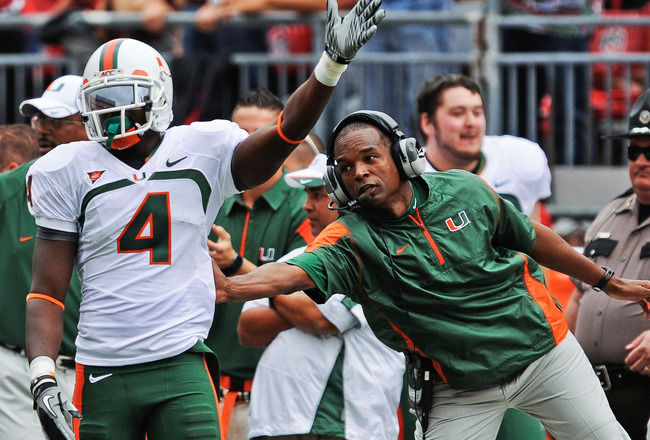 Randy Shannon needs to be this hire. He led some of the best attacking defenses I've ever seen down at Miami. Yes, he failed as a head coach, but that's not what he is being hired for. Shannon knows how to take all-world talent, and exploit it to the fullest. While at Miami his defenses ranked 6th, 7th, 2nd, 28th, 4th, 7th. I think any of us would take our worst year as the 28th ranked defense.
Will Virginia be able to ever have the stockpile of talent Miami had? No probably not, but there is a ton of top level talent here now, and coming through the state in the next few years. Shannon's reputation as a recruiter speaks for itself. He signed the #1 class in his first year at Miami. He will not only help recruiting big-time talent in Virginia, but his reputation will help us tremendously as we try to make more inroads in Florida. No matter how disinterested the people in Miami seem about the Canes, they all know Randy Shannon, and they all remember and respect him. Bringing in Shannon would be the best move possible for recruiting.
So how plausible is this? Well according to the all-knowing Jamie Oakes, London and Shannon have a very good relationship. Shannon is currently the linebackers coach at TCU, so the UVA defensive coordinator job is a definite upgrade. The biggest issue now is other schools that have openings. Currently the biggest threat I see is the head coach position at USF, or even FIU now. Those schools would be crazy not to think about bringing him in. He's also been linked to the FSU DC job, but I refuse to believe he would go to the Noles, given how deep his ties are at Miami. I think the Hoos will need to break out the checkbook to get Shannon, but I think they should. And if they do, it could rocket this program to new heights.

Randy Shannon as UVA's next defensive coordinator: game changer.