Malcolm Cook
is a 6 foot 1, 194 pound safety from Fork Union, by way of Richmond. Cook chose to attend this season at Fork Union due to lack of visibility at Armstrong. Cook earned an offer after a strong showing at UVA's Elite camp over the summer. Upon receiving the offer, Cook committed almost immediately. Following the camp, Cook's stock shot up, making him a 4-star according to 247 Sports. Cook is a dynamic playmaker who can hit and cover. This season at Fork Union, Cook broke the state record with 15 interceptions, including 5 picks returned for touchdowns. Additionally he also forced 7 fumbles, and registered 60 tackles. Cook is the kind of talent that you want to have at the back end of your defense, so when the coaching changes were made, there were plenty of teams ready to strike.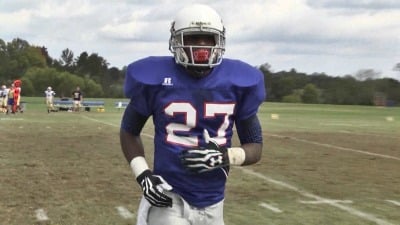 Cook immediately connected with Jim Reid. He felt that Coach Reid had given him a chance when other coaches had not. This made his firing earlier this offseason that much harder on him. Of all the recruits we were concerned about losing due to the coaching changes, Cook was at the top of that list. However once Cook had a chance to meet with Jon Tenuta and discuss his projected role in the defense, his commitment was reaffirmed. In a class that his heavy with DB talent, Cook has the chance to be a real game-changer at safety. Tenuta's high pressure scheme generates a lot of rushed and poor throws from opposing QBs, so having a ball hawk at safety will translate those bad throws into turnovers, something this secondary desperately needs to be able to do.
UVA Projection:
Cook should get a redshirt next season. Safety is not a position of tremendous immediate need, and unlike players like Kirk Garner and Tim Harris, Cook doesn't project to cornerback. However, he should slide into the vacated free safety spot in his redshirt sophomore season to pair with hopefully Quin Blanding (fingers crossed) in what would be potentially
one of the best safety tandems ever at UVA
. BAM! How's that for bold?