(I wrote this as a guest piece on another blog, but thought it'd port well to Wahooze. I hope you enjoy it, as it was a lot of fun to write! I went a little bit crazy with the metaphors.)
Apologies for the long subject line for this post, but I couldn't figure out a good way to condense it. The upshoot of a long subject line is that it can be totally illustrative. For example, I feel free from the yoke of a taxing intro paragraph, because you already know what this post is, and what it's about. So here we go. Here are my reasons why I think college football is better than the NFL!
The Fanaticals
You did know the term "fan" comes from the root "fanatical," right? As in, fanatical devotion to following a team. Well, this point is short and sweet — while the NFL has great fans, college football has great fanaticals. Stack up the half-dead mausoleum that is EverBank Field (home of the Jacksonville Jaguars) against "The Swamp" in Ben Hill Griffin Stadium (University of Florida, 70 miles south of Jacksonville) and you'll see what I mean. The Jags have to suffer through local media blackouts because they can't fill their 65K-seat stadium, while U of F has a 7-year waiting list for season tickets and fills their 90K stadium to capacity for every home game. Yes, this is a study of two extremes, but I think most would agree that college fans are simply more devoted and downright more fanatical than their NFL counterparts. Plus, the college tailgating is better, and the co-eds are hotter.

Stadia
I'm not going to slam on NFL stadiums, because there are some downright beautiful temples to the Football Gods in the League. But college stadiums simply have more personality, more history, more of a story to tell. Give me The Swamp over EverBank Field. Give me The Big House over Ford Field. Give me the LA Coliseum over Qualcomm Stadium. Give me Kenan Stadium over Bank of America Stadium. Heck, give me Tiger Stadium over the Superdome! Et cetera. And this isn't even about the corporate naming rights, it's about the gritty realism of a college stadium vs. the hyperglossy overindulgence of an NFL stadium. College stadiums are about the football, while pro stadiums are about the branding of the shield. Just my opinion.

Uniforms
College games are cheaper to attend. I hold UVA season tickets (7 home games) for about $100 a pop (average ticket price: $14.25 per game). That same $100 would buy me approximately 1.5 single-game tickets to see my beloved Bengals (average ticket price: $65 per game, $90 against the Steelers). James Madison University – a D-1AA/FCS school about 45 minutes away from where I live, sporting a fantastic gameday experience – sells this insane ticket package: 4 season tickets (6 home games, so that's 24 tickets total), 4 footlong hot dogs for each game (24 dogs total), 4 large cokes for each game (24 cokes total), and 4 large bags of popcorn for each game (24 bags total) for $99. Sorry NFL, but you cannot compete with that. You just can't.

Recruiting: More Interesting than Drafting
Look, I'm a total draft geek, 100% draft nerd. But the recruitnik in me wins out. Why? More players to get to know, and an intricate and complex system of recruiting pitches vs. playing time vs. distance from home vs. selling of a program vs. competing with other schools on the recruiting trail. Recruiting coups, steals, busts, upsets, stunners, shockers, head-turners, head-spinners, head-scratchers, knee-slappers, and butt-itchers are par for the course. Drafting is awesome fun, but it's rigid to an extreme. Recruiting is a wide-open, high-octane, soul-sucking siege… and I love following the year-round, non-stop grind of it all. Stocks rise and fall, prospects get hot then cool to lemons, and everything is about selling your vision of the program to 18 year old kids (and their moms). It's the definition of insanity, and a helluva lot of fun to follow.

More Players on the Roster = More Specializations in the Players
The NFL allows 53 players on the active roster. College allows 85 full-ride scholarships, and roster limits up over 100. That means college allows for more specialization and experimentation with player types, which means a more interesting brand of football. For example, I had a friend on the UVA team whose role on the team was to serve as the "swinging gate" on the punt pro unit. Specialization, baby. Evolution, baby. While the NFL gives you a full game of chess - pawns, knights, bishops, rooks, queens, kings - college ball gives you all of that plus dragoons, paladins, siege engines, catapults, archers, brothel maidens, cannibals, ghosts, doves, spies, werewolves, and demi-gods. (For a laugh, click
HERE
.) Weird metaphor, but I guess what I'm saying is that if NFL is chess, college is gigachess, with all new pieces to slide around the board in different ways. (Seriously, click that link.)
Bowl Games for Good Teams that Aren't Great
As an NFL fan, your team either misses the playoffs, loses in the playoffs, or wins the Super Bowl. So one fanbase out of 32 gets to be truly happy at the end of the season. That's 3.125% of the fanbases. In college football, there are 35 bowl winners out of the 124 FBS-level teams. 28% of the fanbases get to be happy at the end of the season! Yes, it's all a bit more complicated than that, given the intricacies of expectations weighed against actuations, but you still get my point. I like the fact that good teams that aren't great still have potential reward at the end of the season. I know I'm happy as hell when my Hoos win a relatively meaningless lower-tier bowl game! Tournament-style playoffs are pure, but bowl games hold a certain charm. The University of Louisiana-Lafayette will likely NEVER win a national championship, but wasn't it fun as hell to watch the Ragin' Cajuns beat ECU to win the New Orleans Bowl and see their fanaticals celebrate like they just beat Alabama in the BCS championship game? That's what I love about bowl games. Plus, there are a lot of them, which means more postseason football, which is
always
a plus. Don't overthink it.
More football is never a bad thing.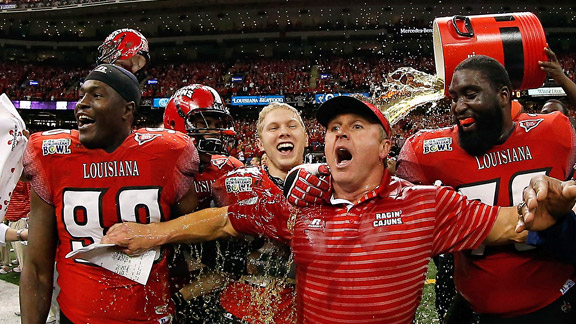 Better, More Interesting Overtimes
A lot of people disagree with me on this one, but I much prefer the college overtime system to the NFL's overtime system. Both teams get the ball, on the cusp of the red zone, alternate possessions until someone wins the game. And after two OTs, if the score is still tied, no more PATs! This overtime system gives us more of what we crave: exciting football plays born from exciting football situations.

Playing for Passion
I think most college football fans overstate this point, but it is still valid — there's a big fat paycheck for the NFL guys, while a crushing majority of college players face the end of their football careers and press on for simple, pure love of the game (and retention of scholarship). The college guys put more emotion into the game, while the pros are more businesslike. It's just a statement of fact.

Test Kitchen for Innovation
The NFL is fairly homogenized, while college football supports - even celebrates - insane little ugly bacteria cultures of football innovation. Look at the rise of the no-huddle shotgun spread over the last 10-15 years. Look at the read option (which is currently the craze via guys like RG3, Cam Newton, and Colin Kaepernick in the NFL). Look at Chip Kelly's Blur at Oregon. Look at the Air Raid. Look at Urban Meyer's Spread-to-Run. It all started in college football. College innovates, and the NFL then uses the innovation. So where would you rather work? In the small trial medicine laboratory where the potions are spewing noxious green smoke and invention at the most basic level seems possible, or at Pfizer where it's all about the business of slicked-out pharmaceutical sales? When it comes to football, I'm the lab rat, all the way.
Rapid Roster Turnover
I'm really fond of the term "building castles in the sand." If you follow that metaphor, you can understand the root of roster building at the college level. Even the best collections of players have a very set, finite shelf life… because after four seasons of eligibility, *poof*, they're gone. Ray Lewis led the Miami Hurricanes defense for four years, but then led the Ravens defense for 17. That's what I'm talking about. You might land Andrew Luck to lead your college team, but after a few seasons, he's gone. In the NFL, you can draft Luck and rely on him to lead your team for a decade-plus. So NFL rosters end up moving like glaciers when compared to the zig-zagging sonic speedboats of college rosters. And because of this rapid roster turnover, good teams can crumble quickly, and bad teams can rise up. There's not as much true parity as there is in the NFL, but the conception and realization of hope is sometimes more magical to experience.

Schedule-Setting
A simple formula spits out your yearly NFL schedule. In college, you play your conference slate, but the remaining 3-4 slots are open for you to schedule whomever you want! Trying to develop a recruiting foothold in Dade County? Go play a game against Miami in Coral Gables, put your wares on display for the local kids. Feeling a nice rivalry brewing up with those buttholes at Big State U? Lock it down with a contract to alternate home games and make the rivalry official with an annual matchup. Rebuilding season? Schedule for success by bringing in Cupcake U for a home field bloodletting. Want your kids to experience reward for sticking with the program and working through the NCAA sanctions? Schedule a game against the University of Hawaii in Honolulu. You get the point. You build your own schedule, for whatever reasons you want. It's a bit chaotic, but there is really fun politicking that goes on behind the scenes with college football schedule-setting.

REAL Rivalries
There are some good NFL rivalries. Cowboys/Redskins. Packers/Bears. Ravens/Steelers. But college football? Ohmygosh. Born of proximity, history, and downright disgust, rivalries are a big part of what make college football so much fun to watch. Whether it's for in-state bragging rights or conference or national superiority, there's nothing quite like watching two bitter rivals take the field. Every team has a rivalry game(s) on its schedule, and each rivalry game is special in its own way. Iron Bowl, Egg Bowl, Commonwealth Cup, Bedlam, Red River Shootout, Cy-Hawk, Golden Boot, Fremont Cannon, Iron Skillet, Oil Can, Tiger Rag, Keg of Nails, Platypus Trophy, Civil War, Bronze Boot, Little Brown Jug, et cetera, et cetera, et cetera, et cetera, et cetera, et cetera.
"Southern"
There's a perception that college football is a southern sport. I kinda buy that. Meanwhile, NFL feels more New Englandy, more Mid-Westy. I'm more southern fried than yankee, so the "southern" thing appeals to me. But it's not a point I'll belabor. College football is just more blue-collar, I guess (even though that's a term that I really hate). It's more small town, school pride, meat and potatoes. It's Mom & Pop Shop vs. Wal-Mart.

Realignmageddon
NFL divisions are cool, but the never-ending cyclone swirl of conference realignment is a totally interesting beast to me. As Wahooze readers know, I am a colossal REALIGNMAGEDDON geek. The NFL offers nothing even remotely like it.

UPSETS!
The NFL has its upsets. But when the Lions beat the Packers, how crazy is that, really? With great parity comes great dulling of upset power. In college, you have Appy State beating Michigan, you have Boise beating Oklahoma in the Fiesta Bowl, and you have
UVA 33, #1 FSU 28
. These upsets resonate; they rattle the foundation of your soul. (In the case of the last one I named, it's still one of the fondest memories of my entire life, some 18 years, a wedding, and the birth of two children later.)
I'm sure I'll think of some more points later, but that's the list as of now.
How about you? Add your points to the comments section and let's compare notes!